ZONESUN ZS-100 New Embossing Manual Hot Foil Stamping Machine For Leather Paper Wood With Measure Line Letters Hot Foil Stamping Machine
ZS-100 ZONESUN Dual Purpose Hot Foil Stamping Machine
| | |
| --- | --- |
| Model: ZS-100 | Pressure range: 15-38kgf |
| Principle: Leverage principle | Packing size: 42.5*28*22 CM |
| Material: Steel, Aluminum | Temperature range: 0-350°C |
| Up and down trip: 16CM | Total weight: 6.5 kg |
| Time Range: 0-15S | Head accuracy: ±0.33MM |
| Voltage: 220V/110V | Hot stamping range: 10×13CM |
| Power: 300-500W | Brand Name:ZONESUN |
Stamping machine branding/bronzing parameters: (Temperature & Time)
Paper stamping: ≈100°C/ ≈1s
Paper branding: ≈300°C/ ≈3s
Leather stamping: ≈100°C/ ≈1s
Leather branding: ≈180°C/ ≈3s
PVC stamping: ≈100°C/ ≈1s
Food branding: ≈250°C/ ≈3s
Bamboo leaf imprinted: ≈320°C/ ≈3s
Wood branding: ≈350°C/ ≈3s
Any question, please leave a massage , thank you!
Introduction:
Desktop multi-function embossing hot stamping machine, compact and convenient, direct plug and use.Adjustable thermostats, replaceable molds to customize for whatever you need.
Remove the aluminum plate under the heating plate, this machine can be used as a machine WT-90A(Another model stamping machine).
The embossed position must be a flat surface, and a smooth flat hot stamping works best.
Different from ordinary hot stamping machines, this hot stamping machine is designed with a removable T-slot heating plate, making it possible to change the mold at high temperatures, simply, conveniently and quickly.
Suitable for leather / leather bags / business cards / paper / plastic / wood / hot stamping / branding, etc.
Features:
Digital temperature control: Digital display of temperature, very intuitive. The temperature is accurate to single digits with almost no errors. Heat quickly, press the button to set the temperature.
Digital display of the internal structure of the electrical box: Temperature control and circuit board integration, the failure rate is small, less wiring, and higher safety factor.
Temperature-controlled probe: Screw-type thermocouple, the tail can be turned, stainless steel shielded tail. Not afraid of bending, accurate and durable.
Using dual heat pipes, faster heating, longer life, and can achieve constant temperature effect.
Transfer paper bracket: It can be put on the bracket directly by hot stamping paper, and the hot stamping is faster, more convenient and perfect.
A scale is designed on the base plate to control the size of the hot stamp, whichimproves the convenience of use.
Detachable T-slot heating plate enables the device to change molds at high temperatures, which is simple, convenient and quick.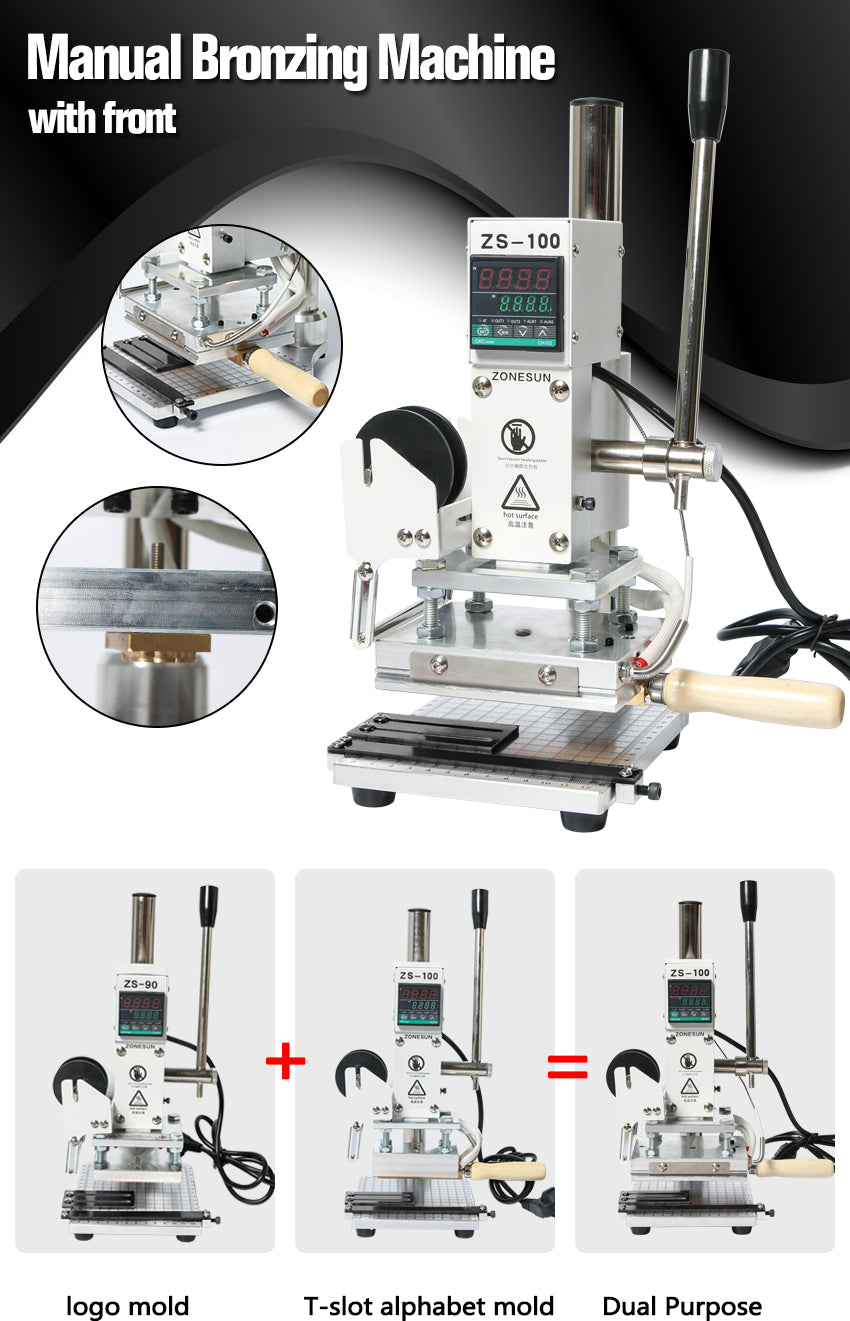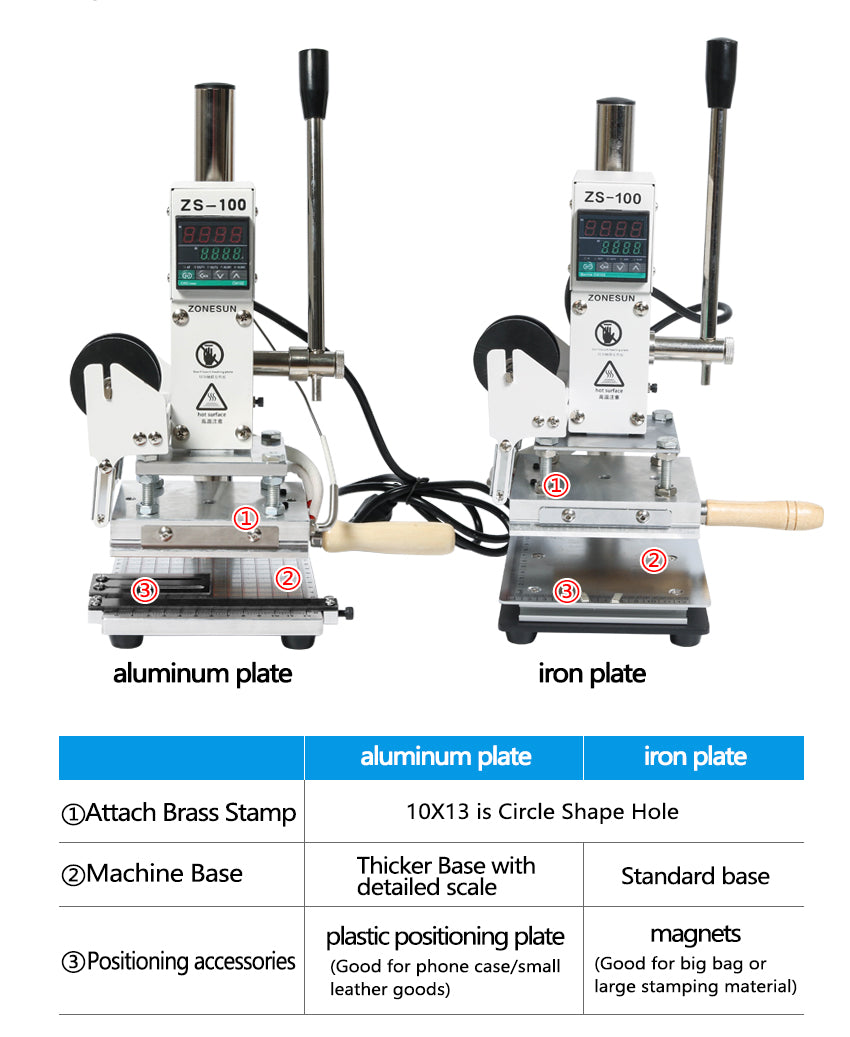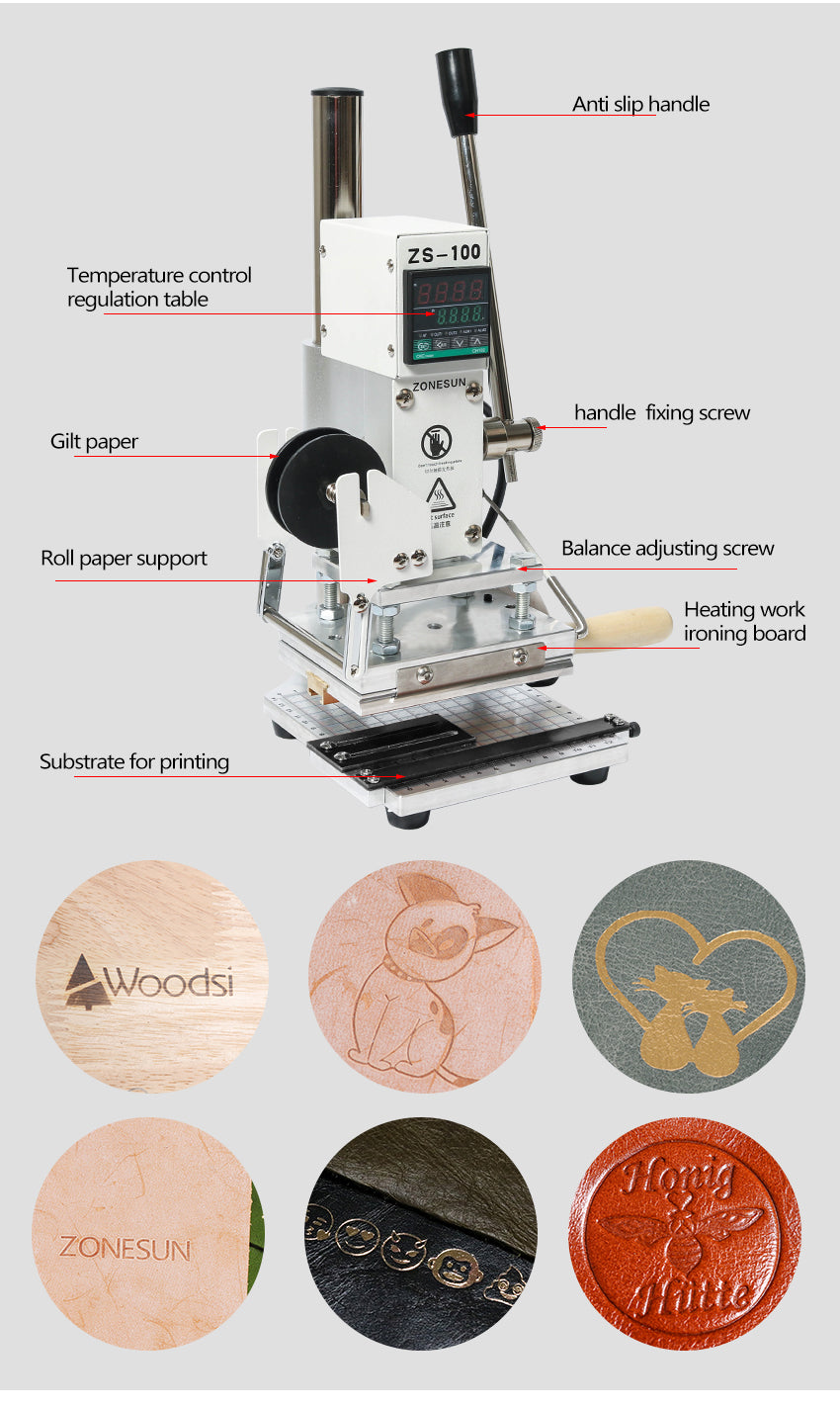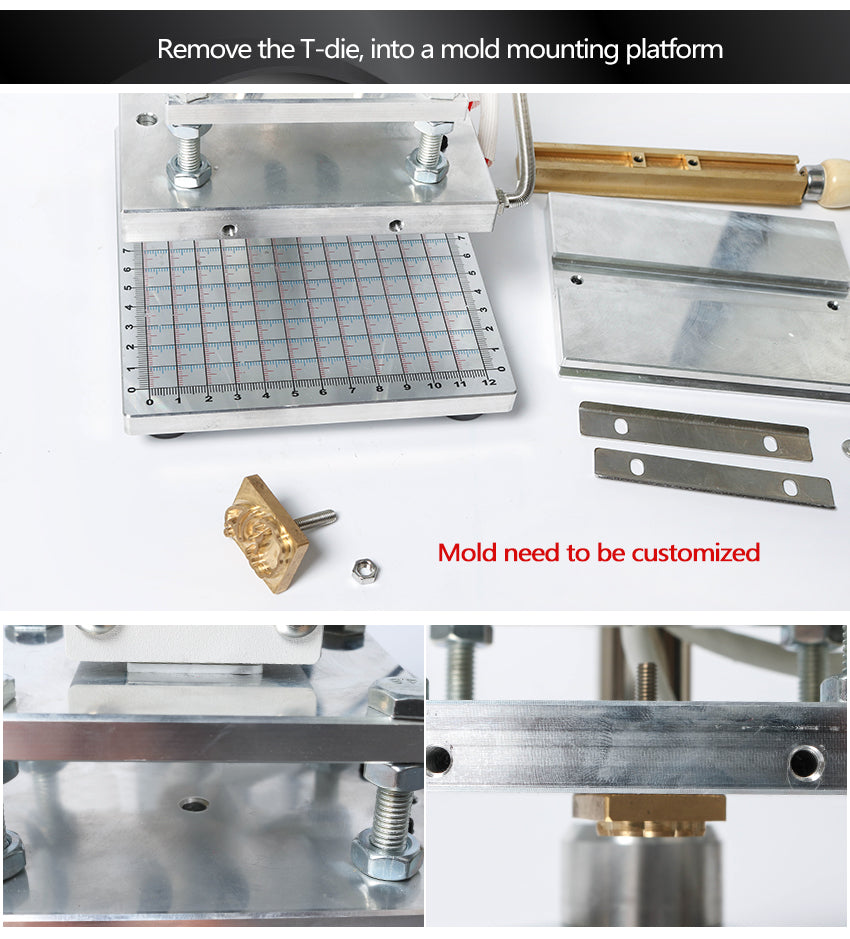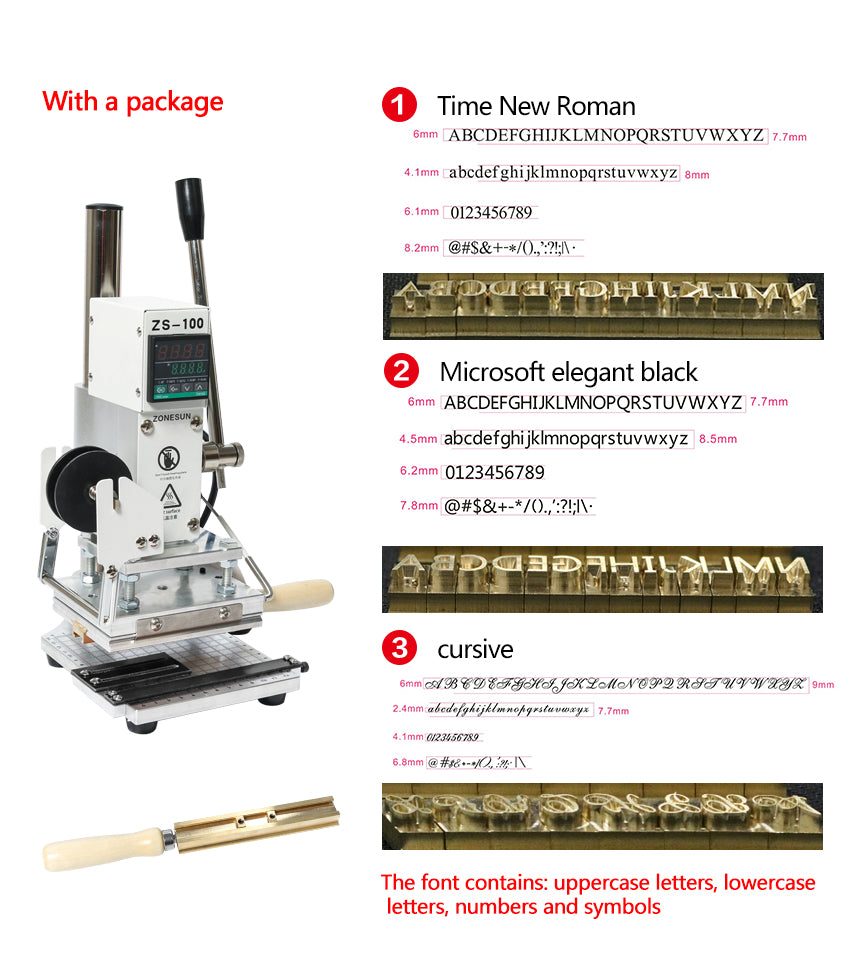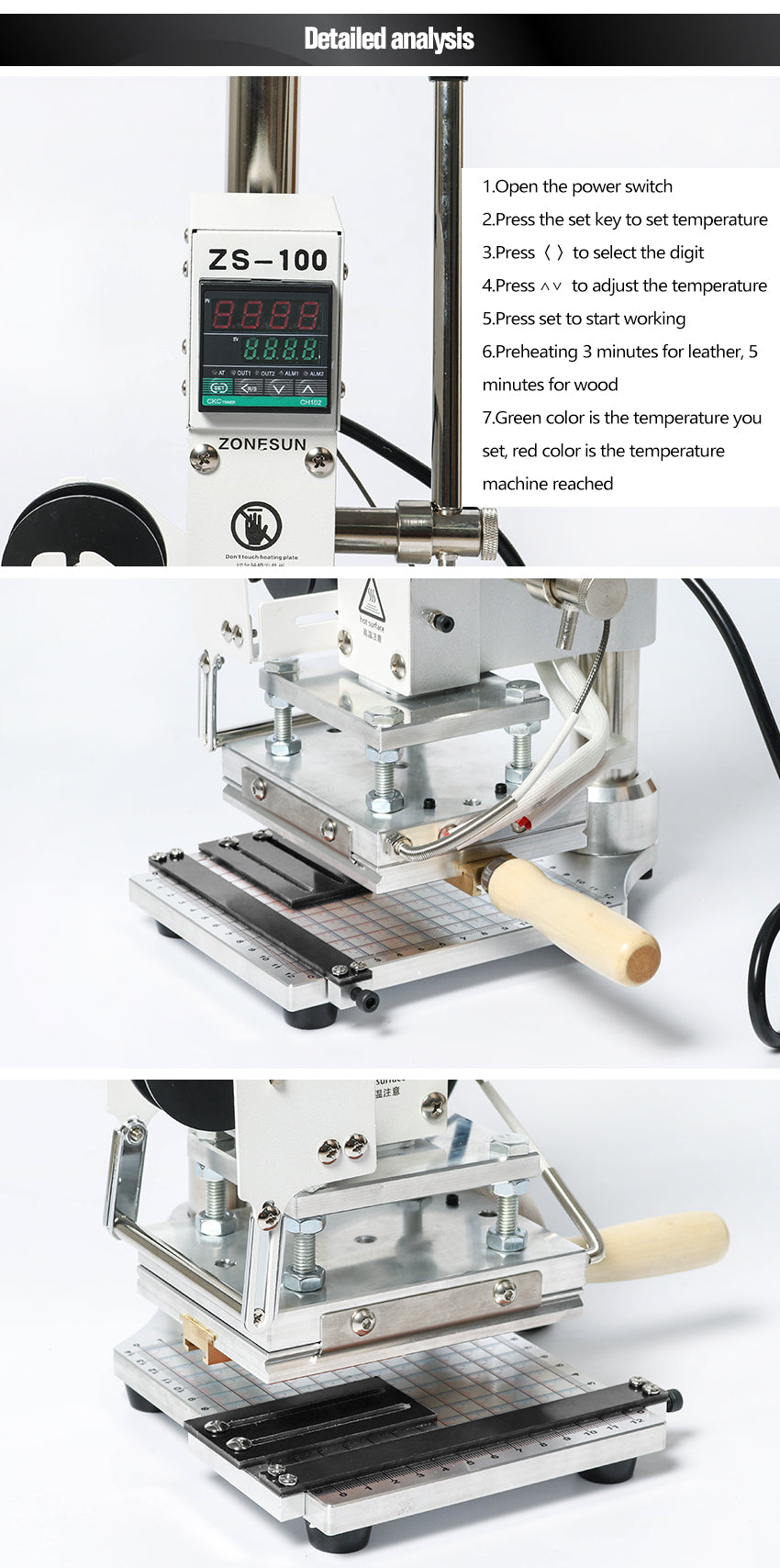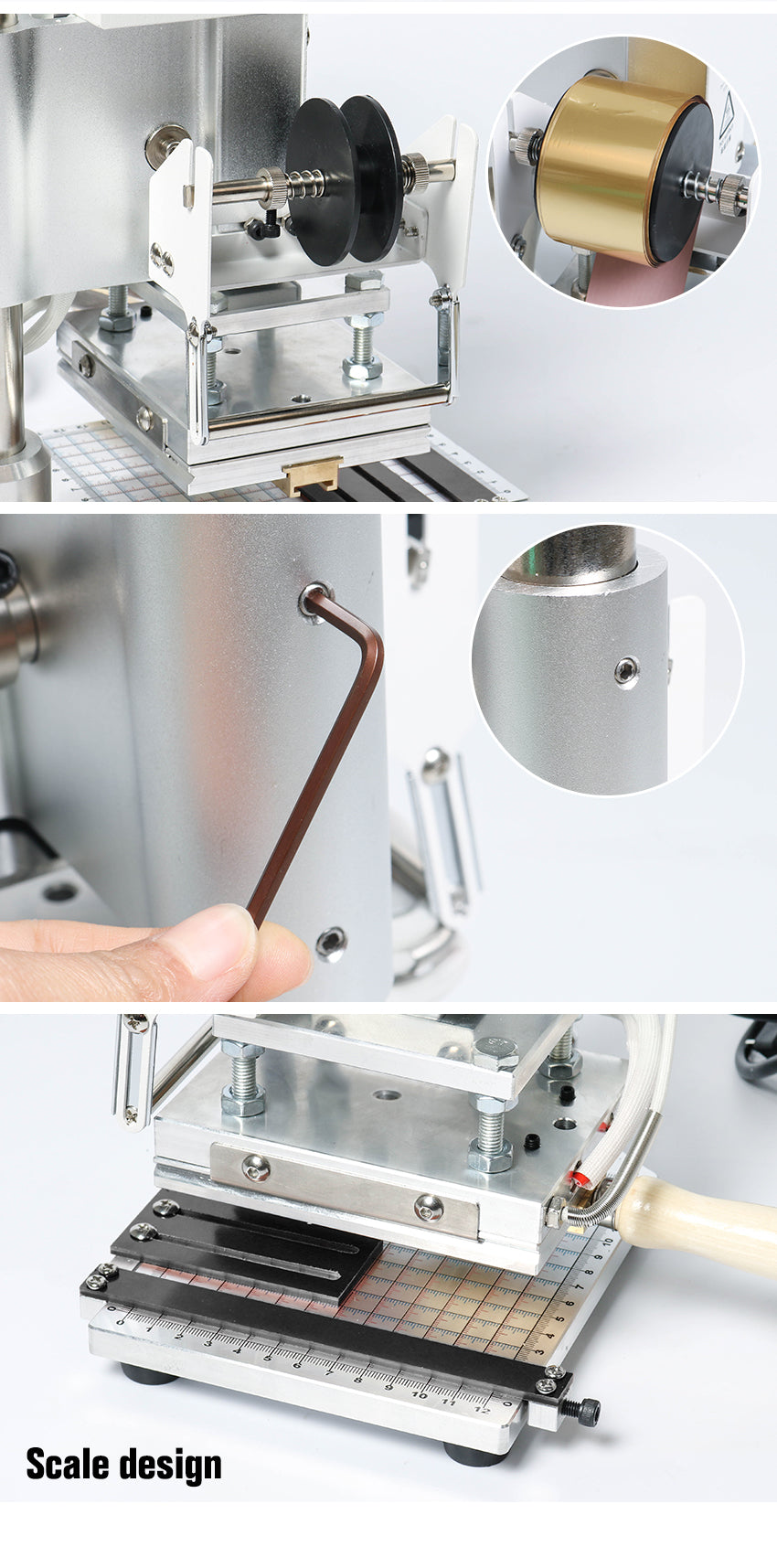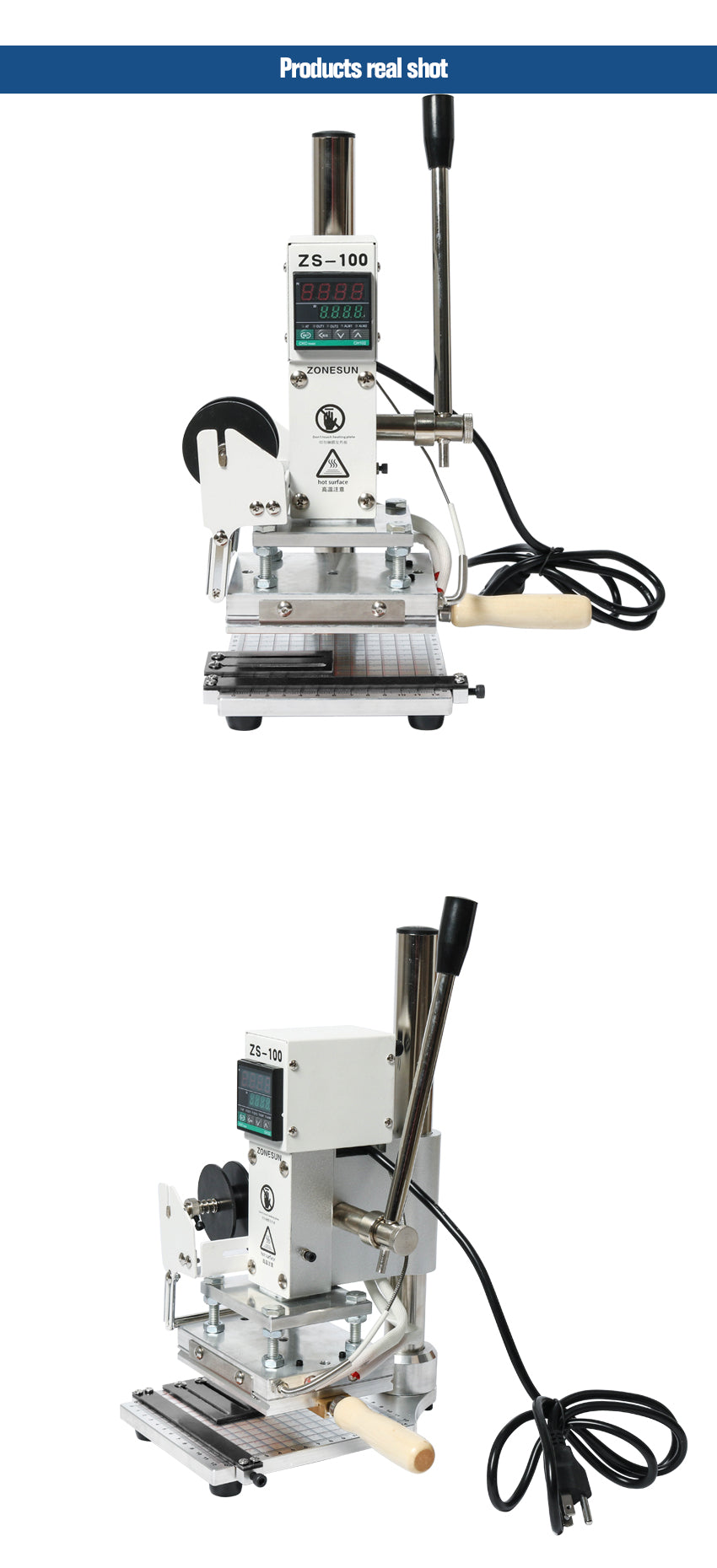 Paper bronzing: 100 degree/1 S
Paper embossing: 300 degree/3 S
Leather bronzing: 100 degree/ 1 S
Leather embossing: 180 degree/ 3 S
PVC bronzing: 100 degree/ 1 S
Food embossing: 250 degree/ 3 S
Leaves embossing: 320 degree/3 S
Wood embossing: 350 degree/5 S
it have video show how it works 
Dear friends, if you buy this product, you will get the following things:
1.ZS-100 Hot Foil Stamping Machine
2.Please see the picture below:
---
We Also Recommend